I am torn between getting an events stylist and just DIY-ing all the props for the wedding. For one, the H2B's dad is an artist-slash-interior designer and can pretty much do anything that he wants for decors. Each Christmas their house looks like something from a magazine. And every Christmas he creates a miniature nativity scene made of difference materials. He also does the backdrop for the FMIL's company parties. So I figured, maybe he can create the backdrop for us too! And last time we talked he was more than willing to help out with my DIYs.
Here is what I had in mind for the couple backdrop.
I think this is fairly easy to make. I even found this website with instructions on how to do it. So I don't think the FFIL will have a hard time making this. Heck, I can even ask our household carpenter to make one! I can just choose a really nice wallpaper or cloth from Divi with a vintage-ish effect and find nice picture frames as well. That should do the trick and I don't think it will cost more than 12k as quoted to me by one of the event stylist. And take note, they gave the cheapest quote.
The H2B also wants something similar for our Photobooth background. I saw this on a blog and we both really like this.
The website has a lot more other suggestions that we are considering. Like this one.
You can check out all the other suggestions here.
We also checked with our caterer and was advised that renting the couch will be 3k and I just don't think that is reasonable. With just a little more we can already buy something for ourselves with that amount and we get to take it home! I will scout the MTO furniture stores in our area and canvas how much it would be to have something like this made:
Even the coffee table is perfect! I love the combination! I just need to find the perfect cloth for this.
This is also nice, but I will have it upholstered in a different color, of course. Maybe cream or ivory would be a good shade and then I will just use hot pink throw pillows to add some vibrancy.
This is truly Heima-ish. I love everything about it! But the color would not fit our motif though. I will just find something similar with a different color. Maybe hot pink damask?
This harlequin loveseat is also a nice idea. But I would change the colors of the patterns, though.
This next one is perfect to a tee! But, of course, I wouldn't know if the local producers here in our area can copy this and it would probably cost more than the others because the fixtures are brass.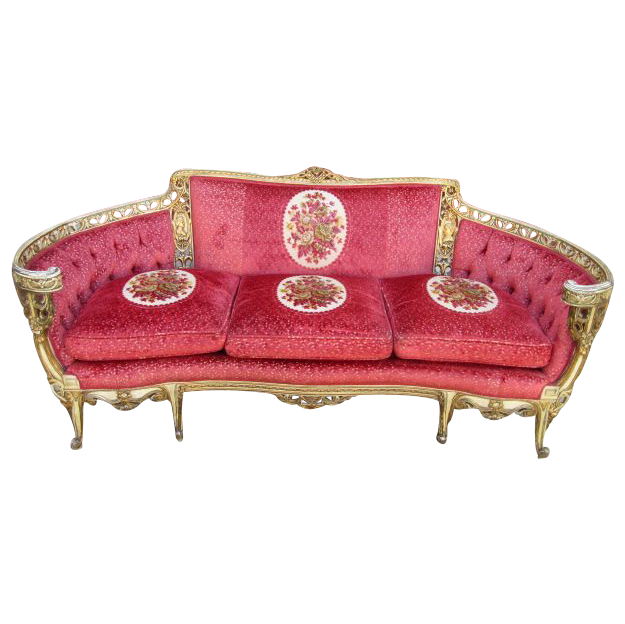 I will scout the area for some nice ready made sofas. Maybe I will even find something that does not need altering! And it is always cheaper to buy ready made. We'll see what we can find.